Company profile: Kanoksin Export Import
Kanoksin Export Import Co, Ltd. was founded in 1976 . Kanoksin has accumulated 40 years of experience in selling computer peripherral ,system printing and datacenter in the country

The Company has operated the business based upon our strong, long-standing foundation which gains trust and reliance from our clients in terms of quality products and excellent services. Our best products and services have been regularly maintained through continuous trainings and the development of skills and knowledge intensively provided to our personnel to enhance the pre-and-post quality standard products and services for the utmost satisfaction of every client that are relevant to the Company's policies .Today, the Company offers products and services that range even further. There are solutions on data Center Providing design, installation and maintenance of integrated information systems (System Integrator) .

Kanoksin is certified to international quality standard ISO 9001: 2008 from AJA Registra an institute approved by NAC and UKAS , today the company remains committed to serving customers as policies and mission. "Kanoksin" is committed to developing quality products. IT services and solutions In response to customer demand To achieve maximum satisfaction. Bring success in sustainable business.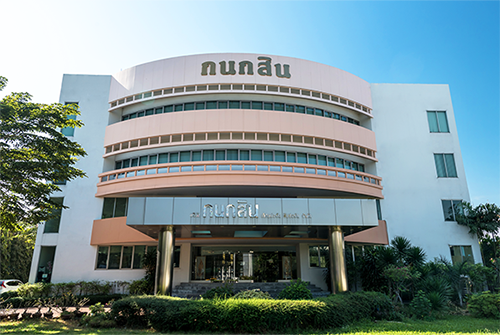 Company Background
1976: Kanoksin Export Import Co;Ltd was appointed as the sole distributor of Memorex orporation for monitors,tape drive,tape reels and diskettes, etc. The Company was also the first company in Thailand to develop the 24-lines thai lanquage on the terminal monitor

1978: Kanoksin was appointed as the sole distributor of TAB Sales Corp.U.S.A for the Decollator and Burster.

1985: kanoksin increased its registered capital to 10 million Baht

1986: Kanoksin was appointed as the sole distributor of GENICOM Corporation .U.S.A for Genicom printer

1987: Kanoksin was appointed as the sole distributor of computer-Link Corporation ,U.S>A for Magnetic Tape Evaluator/Cleaner Computer-Link merged with KYBE Corporation in mid-1990 and changed the name to INTEGRA Technologies Corporation

1988: Kanoksin increased its registered capital to be20 million Baht and was appointed as the sole distributor by CIPHER for Magnetic Tape Drive

1989: Kanoksin was appointed as the sole distributor by the following world leading vendors
-EMC Corporation for Disk Subsystem and Memory Board for IBM AS/400 market
-STORAGE TECHNOLOGY CORPORATION for tape subsystem,Tape Cartridge Subsystem,Library Unit and Disk Array Networking
-ADI Corporation for terminal used in IBM mainframe AS/400 market and ASCII market l.e DEC,UNISYS -McData Corp for the controller equivalent to the IBM 3174 and Multiplexer ,etc.

1993: Kanoksin was appointed as the sold distributor of Verbatim Corporation for Media products

1995: Kanoksin was appointed as the distributor of Fujitsu Limited of Japan for Dot Matrix Printer ,Laser Printer and Magneto Optical Disk Drive

1996: Kanoksin was appointed as the sole distributor of the following products
-Exabyte Corporation ,U.S.A for tape back-up devices 8 mm. Tape Drive and Tape Library for all platforms of computer networking -Dataproducts Corporation for High Speed Laser Printer with both cut sheet and continuous paper for all platforms for networking and ribbon

1997: Kanoksin was appointed as the sole distributor of Legato System Inc,U.S.A for the storage Management Software used in the multi-system or centralized multi platforms data sorting

1999: Kanoksin was appointed as the software distributor of Printsoft Product Ply Ltd, Australia for the products in respect of the Printing Management Document Utilized in the document management

2004: Kanoksin was appointed as the distributor of TallyGenicom products from the United States that is the manufacturer of high-speed printers in relation to line printer ,sdot matrix printer,laser printer and passbook printer as well as other global renowned products .in2010 TallyGenicomm merged with printonix Schweiz GmbH and producted Line Matrix Printers under the TallyGenicom brand.

2005: Kanoksin was appointed as the partner for products manufactured by many global leading companies including
-Symantec Corporation of the United States for storage management software products used in the management of data stored in a variety of systems or platforms -Pitney Bowes (Thailand)Co,Ltd for the distribution of solutions used in the management of documents starting from designs presentation,filling user and delivery

2006: Kanoksin was appointed as the partner of Sun StorageTek products for Tape Library,Disk Deive and Software produced by Sun Microsystem Pte Ltd, In 2010 Merged with Oracle to provide the storage/server &Backup solutions

2008: Kanoksin was appointed as an authorized distributor for high-speed digital printers by various leading sistributors aroud the globe which include
-XEIKON for its Digital Color printing Technology products -SCREEN for the inkjet Digital Printer

2010: Kanoksin was appointed as and authorized distributor by DASCOM AP Pte .for Dot matrix Printers and Passbook printer under the Tally and Tally DASCOM brand names

2011: Kanoksin was appointed as an authorized reseller by -IBM (Thailand)Ltd for the company's storage/server/Backup solutions -HP(Thailand) LtD for the company's storage /server/Backup solutions
Trusted by Hundreds of Leading Business Ventures
Kanoksin is one of Thailand leading in IT peripherals and software defined storage